This article will help guide a user on how to search and save email(s) to a folder in the Soup Mail Outlook add-in.
Follow the steps below to search and save emails to a folder:
Right-click email of interest
Select 'Save to Soup Mail' option
3. Enter the reference number for the folder to be searched in the text-field of the Soup Mail app form and click the 'Search' button

4 Folder of interest is now highlighted. Click the 'Save' button to save email to the folder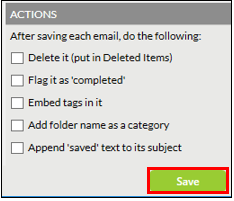 Note: When you type a folder's reference number, only about 500 folders are displayed as you enter the reference number. To find a particular folder, you'll need to click the 'Search' button in the Soup Mail app form after entering the reference number in the text-field.